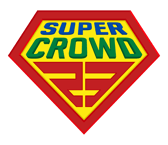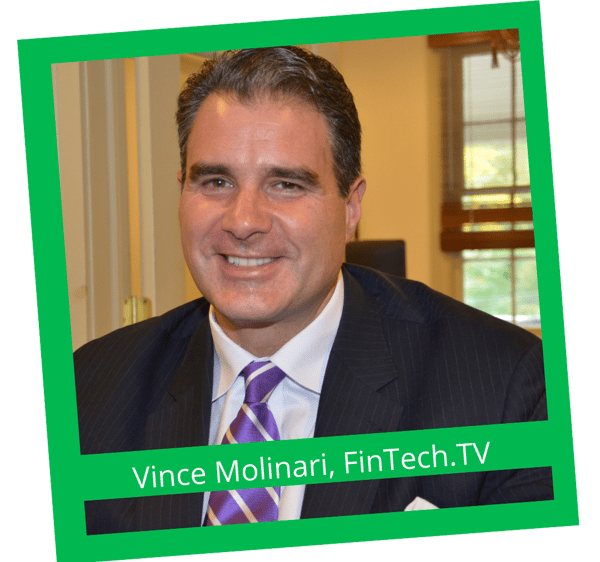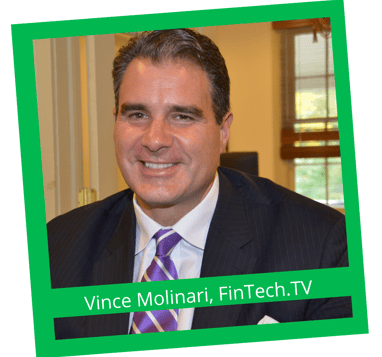 Vince Molinari is the Founder and CEO of FINTECH.TV, PBC , a global media company focused on fintech, blockchain, the United Nations Sustainable Development Goals (SDGs), and Environmental, Social, and Governance (ESG) investing. He was previously the CEO of Templum Markets, (FINRA Registered Broker Dealer and ATS) and Co-Founder of its parent company, Templum, Inc. Where he led the regulatory advocacy that resulted in pioneering and securing the first broker-dealer and ATS approvals for digital securities in the United States. Vince also established an early innovative Transfer Agent for digital assets, Templum TA Services, LLC.He is a Digital Assets Board Member for the Center for Capital Markets Competitiveness at U.S. Chamber of Commerce.
He is also Co-Founder and Co-Chair of the Blockchain Commission for Sustainable Development and is a Co-Founder and Co-Chair of Blockchain for Impact which he co -founded at the United Nations General Assembly in 2017. Mr. Molinari has 3 decades of experience as a licensed person in the securities industry where he began his career at Lehman Brothers and later at Janney Montgomery Scott.He is a globally recognized thought leader on the modernization of securities law and the intersection of breakthrough innovation and technology solutions. He is an active Global Speaker on Market Infrastructure, Capital Formation, Blockchain, Digital Assets, Impact Investing, and The JOBS Act. He is the host of the Digital Asset Report and TheIMPACT shows filmed at the NYSE, NASDAQ and LSEG Studios.
He has been invited to testify before the U.S. House of Representatives Committee on Financial Services, Subcommittee on Capital Markets, and Government Sponsored Enterprises. Mr. Molinari has also testified before The Securities and Exchange Commission's Advisory Committee on Small and Emerging Companies regarding secondary market liquidity and provided numerous testimonies at the request of US Congress regarding the modernization of securities law and innovative technologies. He has participated in authoring over 20 Comment Letters and Petitions for Rule Change to the SEC and Finra. In addition, he consults with members of Congress and Senate on these issues. He is also the lead author/inventor of 7 filed global patents with over 180 claims on the trading, clearance, settlement, transfer and depository of securities transactions on blockchain.
He has established and operated innovative Alternative Trading Systems (ATS) and Quotation Bureau for 144A and Private Securities. He also helped to create taxonomies and unique identifiers for the clearance, settlement and depository for these unregistered securities. Additionally, he formed and operated a Qualified Matching Service (QMS) for LPs pursuant to a Private Letter Ruling from the US Department of Treasury.
Mr. Molinari has been very active in industry initiatives and forums. For example, he is a Founding Member and First Co-Chair of CrowdFunding Intermediary Regulatory Advocates (CFIRA), and a Founding Member of CrowdFunding Professional Association (CFPA). Moreover, Mr. Molinari was a lead advocate for the JOBS ACT, acting as a leading voice in industry forums, focusing on bringing regulatory framework to bear and facilitating investor protection through not only information availability and access to liquidity.
Mr. Molinari's experience, reputation, and belief that actionable knowledge drives investments and that technology can close the gap between traditional and emerging alternative markets has made him a globally sought-after speaker at venues such as the U.S. Chamber of Commerce, U.S. Department of State, and United Nations. Vince has been called to provide testimony to the U.S. Congress and the U.S. Senate. He is a member of the U.S. Chamber of Commerce's Fintech Advisory Committee.
He is an active global speaker on Market Infrastructure, Capital Formation, Blockchain, Digital Assets, Impact Investing, and The JOBS Act. Mr. Molinari has vast international experience, having established financial services partnerships in China, South Korea, the UK and India. He also formed innovative Public-Private partnerships with organizations, including United Nations Global Compact and the Overseas Private Investment Corporation (OPIC.)Besides his global media productions, Mr. Molinari has been quoted and published in a wide range of business media, including the Wall Street Journal, Washington Post, Forbes, Bloomberg News, CNNTech, CSRwire, TechCrunch, TriplePundit Advance Trading and Securities Technology Monitor.
Mr. Molinari's Awards and Honors include: United Nations Global Compact 2013 Leaders Summit Delegate, 2014 Kingonomics Emancipation of Capital Award: Emerging Markets, 2016 Impact Frederick Douglas Award: Male Champion of Global Women's Equality, and IGD Frontier 100 Leader. He also serves on various Boards as a Global Advisory Council Member, including IMPACT Leadership 21, Operation Water, and Cornerstone Capital Group. He is a speaker for the Federal Reserve Bank of New York as well as the U.S. Department of State- International Visitor Leadership Program.
Mr. Molinari maintains the following FINRA licenses:-Series 14 Compliance Officer-Series 82 Private Securities Offering Representative-Series 99 Operations Professional-Series 24 Private Securities Offerings Principal-Series 24 General Securities Principal Examination-Series 7 General Securities Representative Examination-Series 63 Uniform Securities Agent State Law Examination
Founder, Chief Executive Officer & Global Host, FinTech.TV