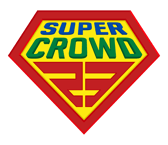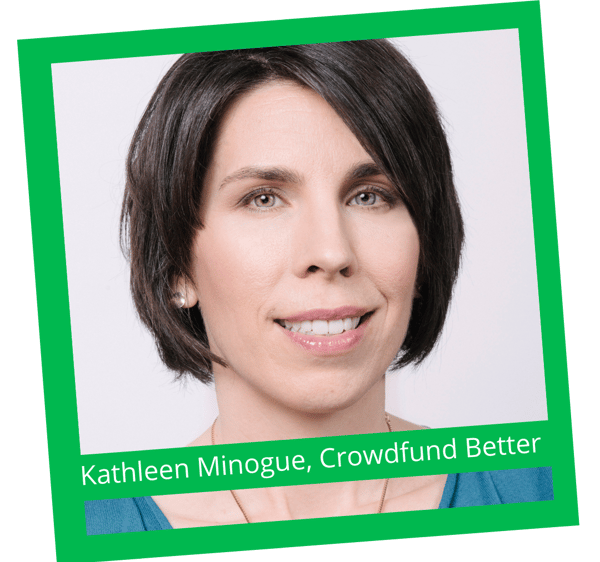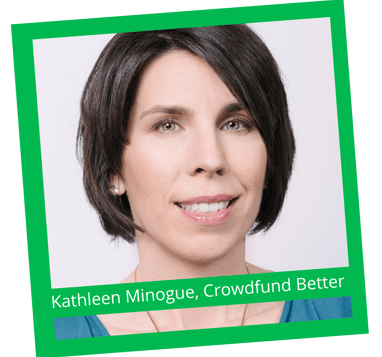 Kathleen Minogue is a crowdfunding educator, speaker and ecosystem builder. In 2012, she founded Crowdfund Better, the leading crowdfunding education and technical assistance organization in the U.S. to guide entrepreneurs how to use crowdfunding strategically to unlock the financial and creative support of their networks to fund projects not supported by traditional finance. Kathleen is the creator of The Crowdfund Better Process™ and has coached highly successful donation, rewards and investment crowdfunding campaigns. She advocates for crowdfunding as a path to bankability for entrepreneurs declined by lenders and is particularly focused on bringing the crowdfunding opportunity to women, minority and rural entrepreneurs.
Kathleen has been featured in The Wall Street Journal, Crowdfund Insider, Dance Business Weekly and Forbes, and has presented at the Director's Guild of America, America's Small Business Development Centers National Conference, Association for Women's Business Centers National Conference, Crowd Invest Summit, Crowdfunding Deep Impact UK, and Global Crowdfunding Convention. She has also contributed to access-to-capital initiatives including the PwC Women Unbound report and the Milken Institute/SBA Partnership for Lending in Underserved Markets. Kathleen is focused on utilizing crowdfunding to encourage entrepreneurship, economic development and job creation, and has developed plug-in crowdfunding training programs for small business assistance organizations and incubators including The Local Crowd 4SE Incubator funded by the National Science Foundation, FundBlackFounders Incubator, Crowdfund Idaho, and Impresario by NEW.
Prior to Crowdfund Better, Kathleen spent many years in the field of education and worked in the investment banking division of JPMorgan building relationships with technology venture capitalists. She is a graduate of Drew University and the Laban Institute of Movement Studies. Kathleen sits on the Board of With Love Market & Cafe, SPC.