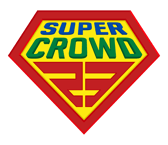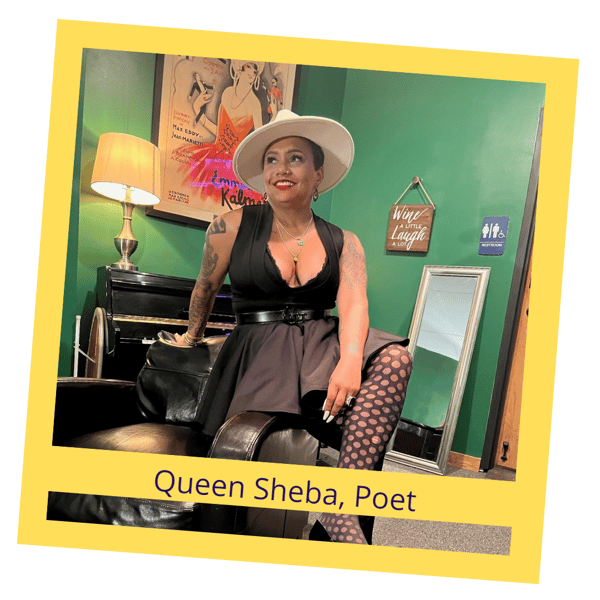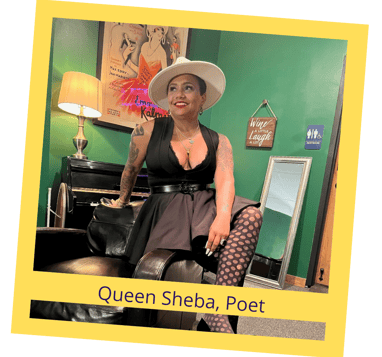 Queen Sheba 60 Second Bio: Born in Detroit, MI, now living in Atlanta GA - Sheba is a featured poet on 2021 Grammy Nominated album F-Your Feelings by Robert Glasper Recently released her 8th album August 19th 2022 "the fukc-it pill", produced by Triumph Reigns, Clayco Music Group with guest production by Multi Grammy award winner in Artists Malcolm-Jamal Warner and Robert Glasper!
She recently returned from Israel, invited by the Israeli consulate, general of Atlanta; and was one of eight people, chosen from around the country by the office of foreign ministry of Israel, for a social impact and education tour. Being who is Sheba is, of course, she found a POETRY group to connect with while learning about technology agriculture, antiracism practices, youth, LGBT, and anything that involves Israel.
You can hear Queen Sheba every Thursday on V-103 as the co-host with Joyce Littel for the poetic moment segment on the quiet storm 10 PM to midnight!
In 2020 during a global pandemic Queen Sheba was invited to participate in a collection of poetry, short stories & visual art by the city of Atlanta. Sheba is Atlanta's previous "Creative Loafing's" People's Choice Spoken Word Artist of the year! She also received the Gentlemen's Foundation 'Gentle Woman of Artistry' of the Year award for her work in the LGBT community for HIV Prevention.
Sheba is a 'Women of the World' & Individual World Poetry Slam Finalist. Sheba is also a featured performer on season two of Verses and Flow, brought to you by Lexus on TV One, and has been on Spoken, a featured poet on Lyric Café on BET, 106&Park, the Apollo and the feature-length film 'Spit'.
Sheba has eight albums, three of which were up for a Grammy under the Spoken Word category including her current album "The F-It Pill" which was in the running for best spoken Word album of the year.
Sheba is a two-time NAACP Image Award Nominee. Her works have appeared in numerous anthologies, and magazines including Vibe Online and the focus of college students' papers, everywhere!
* Queen Sheba has two books: From Foster Care to Fame short stories and poems too long for three minutes and Run Ugly! A motivational book for runners, with two forthcoming books "clemency: poems to help you accept the apology as you will never receive, and "The day I almost died in D.R.- how to leave your body and toxic relationship behind."
With a Master in Poetry from Queens University - Spoken Word artist, motivational speaker, comedian, and bathroom concert singer, Sheba tours internationally and has conducted performances and workshops at over 200 colleges and universities domestic and abroad, an APCA - Performer of the Year Nominee, and is a Creative Writing Professor at the Historical Black Clark Atlanta University where she teaches Poetry, Story Telling and Fiction. YouTube: We Are The Women
Founder, Poetry vs. Hip-Hop Live & Foundation