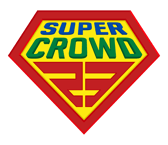 Application deadline: April 30, 2023.
The National Coalition for Community Capital (NC3) will be hosting live crowdfunding pitch sessions at SuperCrowd23 on Wednesday, May 10, at 2:00 PM Eastern and on Thursday, May 11, at 7:00 PM Eastern. The conference and the pitch sessions will be virtual.
One purpose of the conference is to encourage people to invest in their communities, underserved populations, and social entrepreneurs working to solve the world's big problems. Regardless of your industry or scale, you can build a community-aligned business.
SuperCrowd23 Impact Crowdfunding Live is open to any company or organization willing to follow NC3's Community Capital Principles and is actively raising money on a FINRA-registered Regulation Crowdfunding portal or is conducting a Regulation Crowdfunding offering with the help of a FINRA-registered broker-dealer.
Made possible by our sponsors, The Super Crowd, Inc., a public benefit corporation, will be making $100 social impact microgrants to conference attendees chosen at random. To collect, the winners will be required to invest in companies that pitch at the event.
We encourage all impact founders working to address society's biggest challenges and women and historically excluded founders building businesses to apply.
We'll notify applicants of decisions after April 30th. We're notifying applicants shortly before the event to ensure that offerings remain live and will likely be live on May 11, 2023.
Whether or not you are chosen to pitch, applicants will receive two tickets to attend SuperCrowd23. This will be the event of the year for impact crowdfunding.
Whether or not you are chosen to pitch, you will want to attend SuperCrowd23. Please be sure to put May 10-11 on your calendar now!