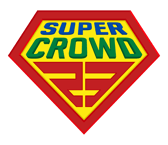 SuperCrowd23 Social Impact Investment Micro-Grants
The Super Crowd, Inc., a Delaware public benefit corporation, is excited to offer randomly chosen winners at SuperCrowd23 $100 social impact investment grants. Winners will receive up to $100 in reimbursement for investments made in companies that pitch at SuperCrowd23 during the formal pitch sessions.
Don't miss a minute! Grant winners may be selected and announced during any of the general, breakout or virtual trade show sessions. The winners must be in attendance virtually to claim the prize when the grant winner is announced.
The companies pitching during the formal pitch sessions will have live crowdfunding campaigns ongoing. Winners may invest in any one of them and then provide simple evidence, like an email confirming the investment, to TSCI. Email supercrowd@devinthorpe.com by May 31, 2023.
TSCI will then reimburse the investment up to $100 via check or EFT, at the winner's option.
Winners must be properly registered using their own names; people who gain access to the event without registering are not eligible.
No purchase is required. Anyone may register at no charge on the scholarship page at https://thesupercrowd.com/scholarships.
No one is eligible to win the prize in any jurisdiction where awarding the prize would not be allowed by law.Write your text here...