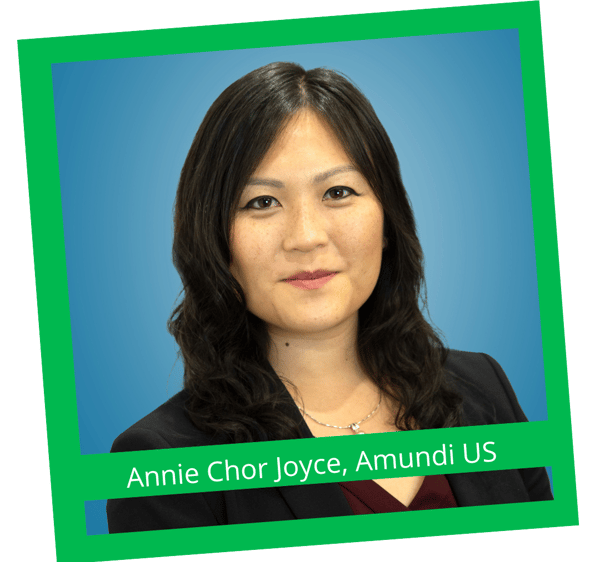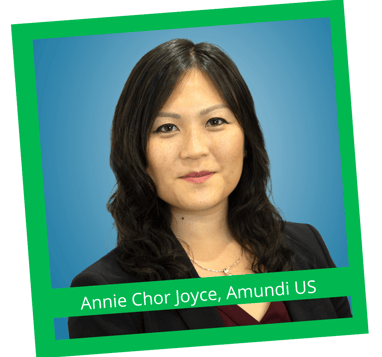 Annie Chor Joyce is Head of ESG for Amundi US. She is responsible for developing the ESG strategy for the US market and US ESG expertise exported to overseas markets. She collaborates closely with global ESG teams, investment management, marketing, and distribution across the firm globally, as well as with external partners. Annie reports jointly to Lisa Jones, President and CEO of Amundi US, and Head of the Americas, and Elodie Laugel, Chief Responsible Investment Officer, Amundi, based in Paris. She is a member of the US Executive Committee, US Management Committee, US Operating Committee.
Annie has a decade and a half of experience in the financial markets and sustainable investing, working with institutional and wealth investors across the impact investing spectrum in public and private markets. She joins Amundi US from MSCI Inc., ESG Research, where she led MSCI's fixed income ESG coverage and worked closely with institutional clients on integrating ESG and climate strategies across the firm.
Prior to MSCI, she worked at several impact-driven organizations, including Social Finance, a national impact finance and advisory non-profit, Éclat Impact, an impact investing fintech startup, and the World Economic Forum. Prior to this, she worked at Barclays Capital in Global Markets.
Annie serves on the Investment Committee of the Phi Beta Kappa Society Foundation, is a Founding Member and Co-Leader of Invest for Better, and a member of the Board of Trustees of Saint Joseph's Prep. She is a Fulbright scholar and received a Dual MBA and Master of Advanced Management degree from IE Business School and the Yale School of Management. She earned a B.S. in Finance with Minors in International Studies and Human Development from Boston College.
Head of ESG for Amundi US